Discover more from Matt on Audio
Podcasts, streaming and radio - what's happening and why.
Over 3,000 subscribers
Why are Spotify and Apple obsessed with radio?
The big tech companies just seem to love putting on a show.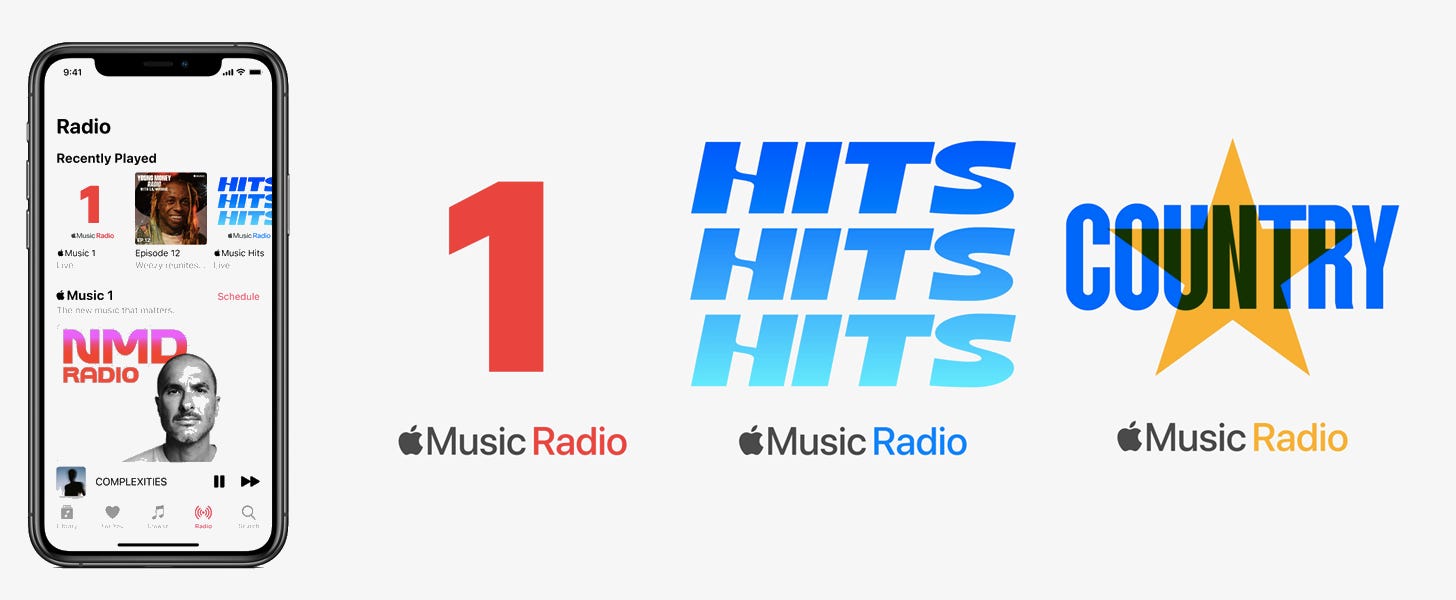 It doesn't help radio in the trendy-ness stakes to be 100 years old. It's demise has been oft-predicted - from the arrival of TVs, the walkman, CDs, the internet, streaming services… but linear predominantly 'broadcast' radio remains listened to by around 90% of people in most countries. It even reaches 80-odd% of 15-24s.
Its ongoing longevity seems to be something that keeps Spotify and Apple's attention. But maybe for different reasons.
Spotify seems pretty determined to finish it off. Daniel Ek, the Spotify boss, said:
While most focus on the competition between streaming services, we continue to be focused on the billions of users that are listening to linear radio. The 20-year trend is that everything linear dies and on-demand wins. This is a trend that we suspect will be accelerated by the COVID pandemic.
To do this, they're very keen on radio-like products. They're gradually expanding their daily playlists across the world - Daily Drive was first, there's now Daily Podcasts, Daily Wellness and the recently launched Daily Sports (which is a great place to highlight content from their recent acquisition - The Ringer). These playlists mix short podcasts with your favourite music.
I definitely think there's value in this type of personalised content for both listeners, and content creators - as an appearance on it introduces your show to lots of people who subscribe to the playlist, rather than you.
The bit that I'm unsure about it is what consumer behaviour it replaces, or adds to. Is it replacing time previously spent listening to radio, or does it come from streamed music listening, podcast consumption, or a new behaviour that adds audio time? I'd be interested to know if consumers think it does any of the jobs that radio does.
Generally, the companies outside of radio tend to have a skewed understanding of what radio is, why people listen, and what they like about it. They understand the mechanical nature of it, but not the emotional needs it fills.
Now, I don't think it's anything particularly secret, there's loads of studies out there, and radio groups themselves have spent a lot of time understanding it. Indeed, the Radiocentre did a great piece of work - Audio Now - which looks at the differences and overlaps with streaming services on how listeners use different media.
My good friend James Cridland describes radio as
"audio with a shared experience and a human connection".
I think this is a good description and doesn't just describe something broadcast. I'd argue that regular podcasts, with significant scale, and engaging hosts meet this description too. Indeed, if I was drawing Venn diagrams, Rosie and Chris Ramsay's Shagged Married Annoyed would share more with a radio breakfast show than they would with an algorithmic playlist.
Apple
Over in Cupertino, Apple's home grown digital audio efforts have definitely been at the "shared experience and a human connection" end of things, in fact they are very much in the linear radio camp.
In 2015 they launched Beats 1, a worldwide streaming radio station and part of Apple Music. It was very presenter and live-led with daily shows from in LA, NY and London, including a swoop in to get Radio 1's Zane Lowe. Last week they announced they were re-branding it Apple Music 1 and adding Apple Music Hits and Apple Music Country to the stable.
The new look for the stations seems to be around artist-driven programming. Shows presented by music stars with broad playlists, genre-wise, but in keeping with that person.
Beats 1 then, and the new shows now, all sound really good, no doubt helped by the number of Brits they've got making lots of them. I had a very pleasant time listening to Estelle and up later is, er, Alanis Morissette.
The difference with all of these stations (compared to regular radio) is that they're brand-focused rather than consumer-focused. And this is where I think it all falls down.
Great radio stations are completely focused on audience and delivering something that keeps them tuned in. You can do this a number of different ways whether it's playing 100 songs on a tight rotation or spending £100m a year on news, documentaries and drama. But to be successful you need to really understand your audience and design everything around them.
Today, the explosion in digital choice means you have to work even harder. If you haven't got a heritage brand or lots of marketing money, you probably need to position yourself as a consistent tap, dispensing something listeners know when they turn it on.
Now I'm not arguing for cookie cutter programming, or abandoning crafted material, it's just the experience of seeing how listeners consume radio all over the world.
The other key to looking after listeners is distribution. You need to be on hand whenever a listener wants it, wherever they are, whatever they're listening on. Part of the BBC's historic radio success comes from its amazing distribution - FM, DAB, DTT, apps, smart speakers. Connected or not, you can always get Radio 1 or Radio 4. I think the recent success for commercial radio in the UK has come from a wider variety of choice but also much better distribution. Be that national DAB or smart-speakers, you can now get your favourite radio station in all the places the BBC are. That certainly wasn't the case 10 years ago.
For Apple, their stations are tethered to Apple Music and locked away on your phone or an expensive HomePod. The stations are actually free to listen to, you don't need an Apple Music subscription to get them, but their lack of distribution - in all the places that people listen to the radio - makes them difficult to make as part of your habit. Fundamentally most people don't have iPhones, or make Apple Music a big part of their life.
If you're an Apple Music subscriber you do get extra benefits, including listen-again for all of the music shows. This isn't that dissimilar to Spotify exclusive podcasts. Except this is music rather than speech. But for me these aren't necessarily selling points to become a subscriber, but if discovered, help act as churn protection. Adding in some friction to stopping you from swapping your streaming music service (where repertoire and functionality is basically the same) isn't a bad idea.
Apple don't publish listening data for their online radio stations, though they claim that they're some of the world's biggest. When you look at public sources though, the lack of interaction on social media, or video views for material does suggest a lack of connection from audiences.
It doesn't help the stations that they seem bound by Apple's desire that no one's allowed out to talk freely about what they're doing. Limiting PR when you're building mystique on a piece of brushed aluminium is one thing, but it's a tougher sell when you're a challenger in the entertainment space. Where's the fun in being a high quality secret.
For Apple, the radio stations and their access to artists obviously help with brand perception, as it helps keep them feeling young and cool. It also provides an outlet to help support outreach to record labels, they're something tangible they can give the industry - interviews, features, takeovers etc.
However talking to them, labels also feel somewhat locked in with regards to the stations, with a fear if they don't provide support it'll affect how they're featured in playlists and in Apple Music more generally. Something pretty essential for artists making most of their money from streaming.
All of this is why I think of the stations as brand-driven rather consumer-driven. The product and its execution seems designed far more around solving problems for the brand, rather than solving problems for a listener.
This, along with a lack of distribution is why the stations will always find it difficult to cut through. Great content just isn't enough.
---
Enjoyed this? Subscribe and get weekly posts to your inbox…