Discover more from Matt on Audio
Podcasts, streaming and radio - what's happening and why.
Over 3,000 subscribers
Spotify & Anchor Allow Podcasters to Add Music
...but it's not as easy as it seems.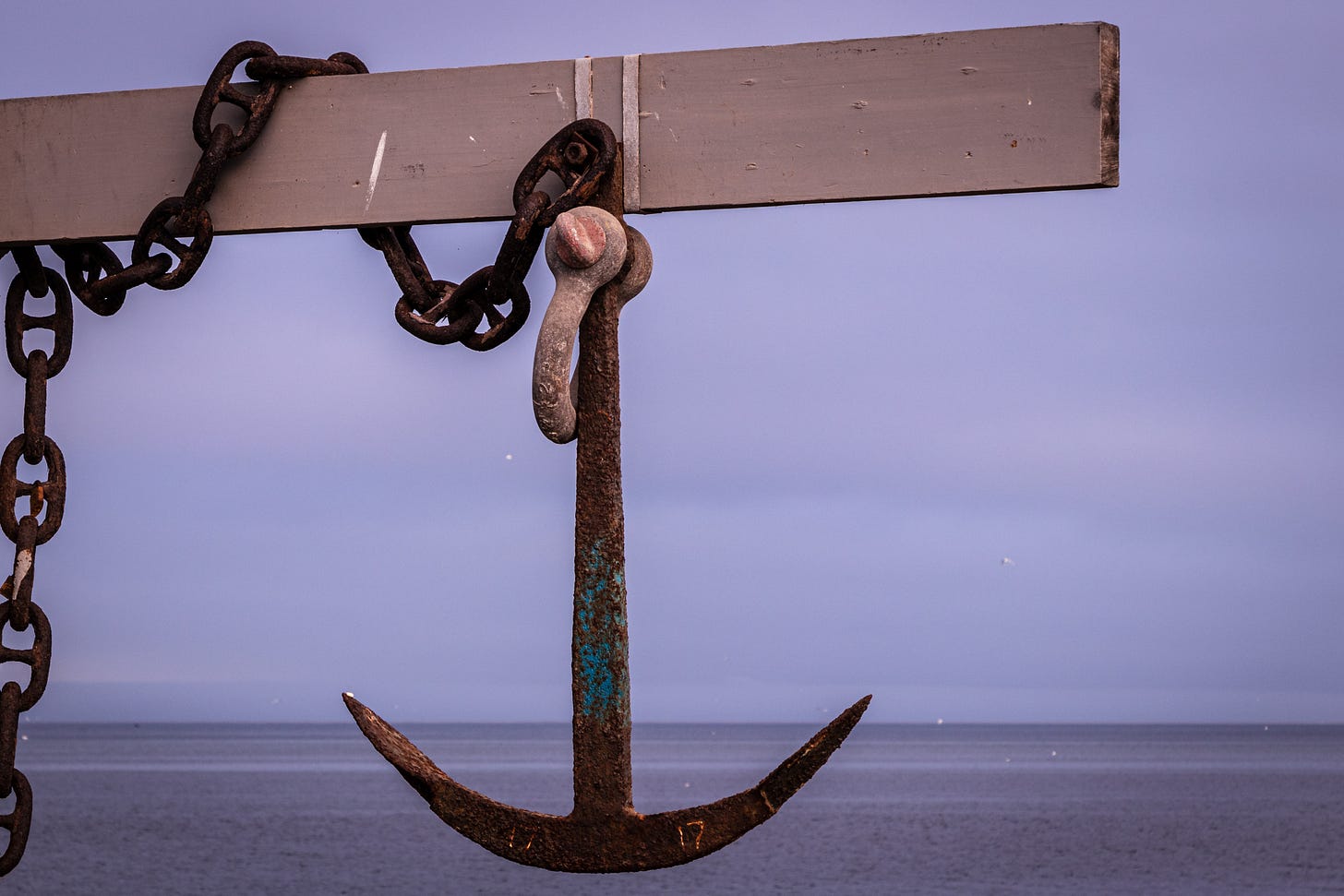 Like this, subscribe and get them in your inbox…
News from Spotify's podcast creation service Anchor, as they announce that you can now add full tracks from Spotify into your shows.
Podcasts have tended to be music-free zones because of licensing restrictions. When Spotify entered the space, many asked whether they would be able to fix this? And, well, er, they've, um, not really got there but they have created something new. Ish.
At the moment their Anchor tool, allows people to create podcast channels and episodes within them, for free. They also have some monetisation options and distribute your show to some key places - notably Apple Podcasts and (sister-company) Spotify.
The interface to do this is quite whizzy for amateurs, but let's just say pro-audio folk are unlikely to use it to make the next Serial. What you can do though, is upload an MP3 you've made in Audition, or whatever, and use Anchor for free hosting and distribution.
Now you can add songs from Spotify's catalogue to your episodes too. But there are some restrictions. First of all, your episodes-with-tunes will only appear on Spotify and Anchor. They will not be distributed to Apple Podcasts or any other podcast apps. This is because those apps rely on downloading MP3s, and the music labels won't allow that. So this is definitely not 'podcasts can now have music' territory.
You also can't edit the songs, speak over them or create radio-like segues. It's very much stop speaking and then the song plays from the beginning and runs to the end. It's hard to be radio-DJ tight with it. You can't upload music either, so you can't use it for dance mixes.
In fact it's pretty hard to use it like a radio show as short links are not allowed either. My attempt to demo it for this piece was rejected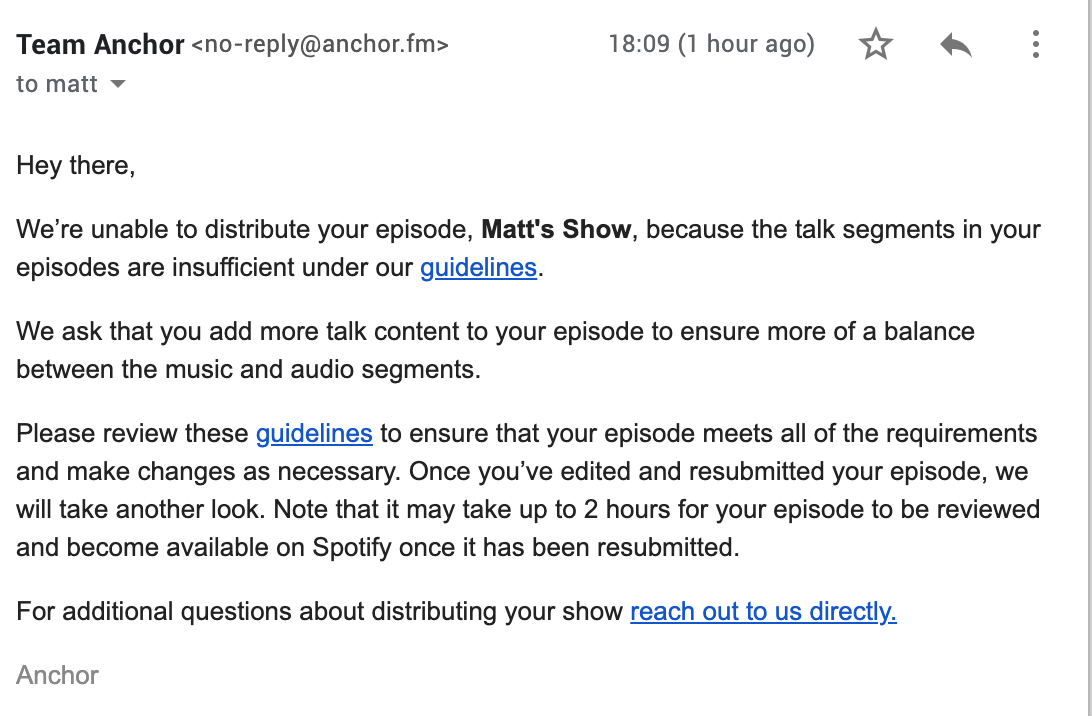 Annoyingly clicking through to the guidelines didn't then tell me how long these talk segments would need to be. But this isn't a service that will allow people to do music-intensive commercial-radio style shows. Which depending on your view, could be a good or a bad thing!
It's rules get even tougher if you want to include ads:
There must be at least 60 seconds of ad-free talk content on either side of the ad

There must be at least 10 minutes of ad-free talk content between ads (irrespective of how much music separates the ads), and no talk ads are permitted in episodes that have less than 10 minutes of ad-free talk.

Baked-in ads should be marked as ad segments in your episodes.
I imagine these rules were necessary to get music industry sign-off.
You can also only listen to the shows in the Spotify app and not on the web. Listeners who are Spotify subscribers get the full tracks, Spotify Free folks get 30sec clips.
So, what's this good for?
Oddly it's probably best for podcasters who want to add a few songs to an existing speech-heavy episode. If you did a round table reviewing songs, the functionality is probably perfect. The only other usable format is probably being a bit Radio 2. Playing songs and talking lots in between. Now that's a format that presenters love, but listeners are unlikely to be as keen on. Especially from new entrants.
For Anchor and Spotify though, it's a unique additional offer that's good for Anchor users and it creates a new genre of content for Spotify to own - content that creators can't put anywhere else.
Their thoughts on what this is for is probably best explained by the examples they've put online for launch, made by Gimlet, Parcast and Ringer, some of the content companies that they own.
In 60 Songs That Explain The 90s they do a 30min analysis of a tune - in this one Alanis Morissette's You Oughta Know and then they finish with the full track. Rock This with Allison Hagendorf takes the form of more traditional radio show with Allison talking about tracks as well as interviewing Yungblud. The links are generally between 1min30secs and 12mins, but I did see a 40sec short one too. Clearly to get approved the speech content needs to be high. They're all akin to 'built programming' that you'd get from the BBC or other public broadcaster.
Whilst there will be amateurs that create shows (just as they do in the podcast space) I think that's a bit of a red herring. Whilst a few of these will of course cut through, what this is really for, is for pro organisations - magazines, radio stations, websites, celebrities - to create high quality 'produced' programming built around music.
For Spotify that's a really interesting addition to their service. Covering off Music, Podcasts and now Music Shows gives them a unique product in the audio-on-demand market. Their licensing arrangements will also mean that Music Shows are hard to replicate for their competitors. And having this unique vertical will help them in their quest to be the main audio app.
But if anyone asks, it definitely isn't radio and it doesn't mean that songs have come to podcasts.