How to Launch a Media Project: Watching Times Radio Take to the Air
What can we learn from the Times Radio launch?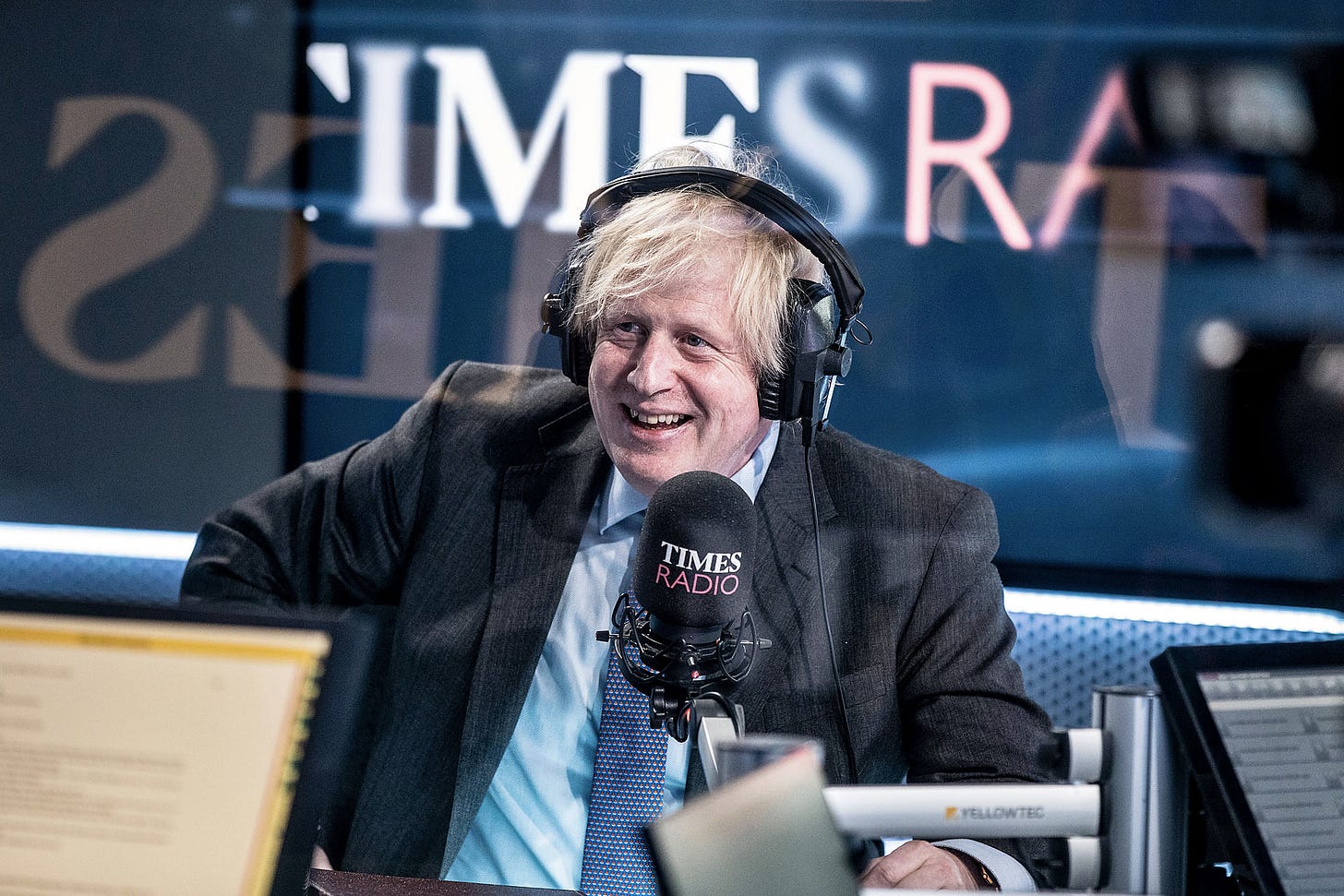 30 years ago, a launch of a radio station was a big thing. Guaranteed coverage in the local newspaper (balloons, wide grinning faces) and the regional TV would turn up to film the board room champagne toast, a DJ doing the opening link, and then raising an eyebrow and light questioning of the economics.
Today, of course, a new media launch is a regular affair - hard to generate noise and awareness, let alone encourage sampling.
Monday's Times Radio launch got a wrap-around newspaper front page, it did however need to own the newspaper to get it.
Launching a linear speech service is tough - generating 20-odd hours a day of non-stop content is tough for anyone. Times Radio has done a good job, powered by radio expertise from its parent company's radio division - Wireless Group and drawing on the editorial output of The Times & Sunday Times and its journalists around the world.
As I talked about in a blog post when it was announced, Times Radio's raison d'être isn't radio revenue - it's marketing for The Times brand and general encouragement to become a subscriber. Recurring revenue is hugely valuable to a media company and if it contributes to that, it'll be seen as a success. It does mean the team have to ignore their instinctive media reflexes to follow the quarterly RAJAR figures.
The Times is evolving from two separate papers - The Times and Sunday Times - into an integrated newsroom, website and app, podcast network, event business and now radio station - all wrapped together to encourage that recurring subscription. In a Buzzfeed piece earlier in the year, it suggested they're looking towards the New York Times brand as something to emulate - basically retaining heritage and quality, but being accessible and interesting to younger audiences (whilst growing those subs).
You should never review a radio station after its first two days, as it'll likely shift and change, finding its feet over the next few months. Overall though, I think they've done a good job, it sounds as professional as you would expect from The Times, with solid presenting and good guests.
For me, though, I was more interested in what happened off-air. How was it received, both literally and figuratively, and what can other media launches, maybe yours, take from it.
Distribution
Modern radio is hugely lucky. We have a significant broadcast digital network in DAB that can reach most people, and two thirds of the country tune in that way. If you can't get that - listening over the internet through, predominantly, apps or smart speakers brings it to nearly everyone. Probably for the first time with a big digital radio launch, if you've heard it's on, you should be able to get it. Should.
What the station faced though, were the new radio gatekeepers - Google, Amazon and TuneIn. On Monday morning Alexa worked for some and not others and Google Home happily sent you over to Radio X London (probably confusing Times for X).
Alexa shouldn't have been an issue, they had a self-installing Skill that should be installed automatically when you give the 'play Times Radio' invocation. This needs some Amazon insider magic to make it work - which they seemed to have it sorted. However a load of listeners were still seemingly being pushed through TuneIn's default radio status and whilst the station is on TuneIn (well at least from the afternoon of launch, as I check) it seemed to default to Times Radio Malawi - giving newspaper competitors The Guardian and the Evening Standard the opportunity to cover the launch, but guffaw at the snafu. Radio 4's PM were more generous.
Who's problem is all of this? Well, that's the issue. It looks like Times did most of the right things, they just hit the uncertain black box of Amazon and Google. Fundamentally these companies are not geared to deal with all of the radio stations on the planet, and have outsourced much of the work to TuneIn. However the X and the Times confusion is likely a Google Home semantic decision (as are the problems with 4ZZZ in Australia and a variety of other stations too). Getting these things fixed, even when you know people in the organisations, is tough to do.
The radio sector's known about these problems for a while and there's an emerging stick and carrot coming for the tech companies. A stick in the form of government intervention, raised as part of the digital radio review. And a carrot in the form of Radioplayer's API. Radioplayer was the UK cross-industry body to help provide apps and integrations for the UK radio sector, that now has become the defacto canonical source of radio information for more and more countries around the world. We can't bash the tech companies if we haven't got a solution for them, but we do now.
The Times' smart speaker problem is also a good reminder how a distribution strategy and the implementation of it, can cause friction to interfere with a launch - detracting from great PR, in Times Radio's case content from the Prime Minister.
Representation
The station also faced a bubble of social media complaints, that enjoyed some virality, with a pick-up of a Times Radio tweet announcing a subset of its presenters that wasn't particularly diverse.
The station, as a whole, has done better than most with representation, with BAME presenters at Breakfast and Drive and a good gender split - but it hasn't communicated it, letting others fill the gap.
Of course, it's more than just faces on a schedule, what's the representation like behind the mic, and what's the station approach to reflect broader views in the UK in the content on-air?
All companies are playing catchup in this area, but a launch is a good opportunity to show you're both on the front foot and working hard to build diversity into the development of your brand. Indeed internally, NewsCorp is a little further on in this journey that many, but that's hard to see on the outside. I think for all media companies, at the minimum, use your website to talk about this journey, and what you're specifically doing. As well as that, show your support for industry initiatives like Equality in Audio, and be up for being held to account.
Handled right, it would also, for The Times, help it on their NYTimes brand journey re-invention.
But for any product's new launch, representation should be a core part of the business and a part of the communication strategy. As well as being the right thing to do, it's something all new media brands will find a spotlight pointed at them.
Marketing
For any media launch the plan is always the same - create awareness, drive trial, and encourage regular use. From TV ads to word of mouth, all publicity is pretty much good publicity to create awareness (trial maybe a different thing!)
Compared to the launch of talkRADIO a few years ago (before it was part of NewsCorp), Times Radio's appearance shows the value of using your own assets in the right way.
In the week leading up to launch, the hosts appeared on their own podcast Stories of our Times and Red Box, Virgin Radio breakfast with Chris Evans had the presenters on most days, the papers had many mentions and on Monday morning there was a Times front page wrap-around. Tuesday splashed on it too.
The easiest people to convert are clearly Times Readers so using that is an obvious route to awareness.
Social across Times, Times staff and presenter accounts was okay. There was quite a bit of under-stated plugging "I really enjoyed it today", "I'm excited about tomorrow!" It's a delicate balance working with your own staff to use their channels, but collectively it's a large reach and there was probably more that could have been co-ordinated through that. If you're lucky enough to be working on a project with 'talent' work out how to bring them into the social mix.
Saying that, looking at the social coming into the station, there was a lot of chatter and more cut through than I'd probably expected. Resources, of course, aren't infinite, but having a Times account answer questions, particularly over things like app use etc, could have helped.
Social can provide such a strong voice for a brand, it can short-circuit issues, and can help turn followers into fans. This is especially important if your aims are all about enhancing the brand and turning people into subscribers.
If you're a content business, your followers can be good sources of information. Look through them, start with the blue ticks, it can really help grow your address book - and they'll also be familiar with your product already when you ring them for a favour. Way too much social concentrates on broadcasting out - your followers are a social network of your own too - bring them in.
Content Marketing
As content businesses, we're especially lucky that the main thing we do - our output -can often generate the awareness we need. Times Radio's interview with the Prime Minister not only provided content for the station (and it was well used all day), it also gave them a great hook to get competitors talking about them. If you make news, others have to report it, and you'll usually get a plug. Times Radio certainly did.
Social is a great place to make content travel, but in a world where anything buzzy gets an instant article created, having the right assets can also put you at the heart of story. Is your material clip-able and re-usable? Does it also exist in easy to search places, transcribed? Seeing a social asset is useful, but appearing in search and letting others quickly get to the nub of something in text, rather than scanning through a 5 minute video or audiogram - can be valuable too.
If resources permit, can you set up a work-flow to extract value from your material? Clipping, auto-transcribing, fixing, editing and then publishing can generate more output, across more platforms. Really sweat your assets and drive awareness. For a linear business, you can also use that workflow to ensure that great content gets re-used, or re-packaged later on.
Opportunity
Times Radio is probably in the middle of a Venn diagram where content, marketing and brand salience meet. Its challenge, like everyone with a new media product, is to ensure it keeps the quality content flowing, is consistent, whilst spending the time and effort to ensure awareness keeps growing, encouraging sample and turning those interested into regular consumers.