Discover more from Matt on Audio
Podcasts, streaming and radio - what's happening and why.
Over 3,000 subscribers
Eat, Sleep, Launch, Repeat
Everyone wants a dance radio station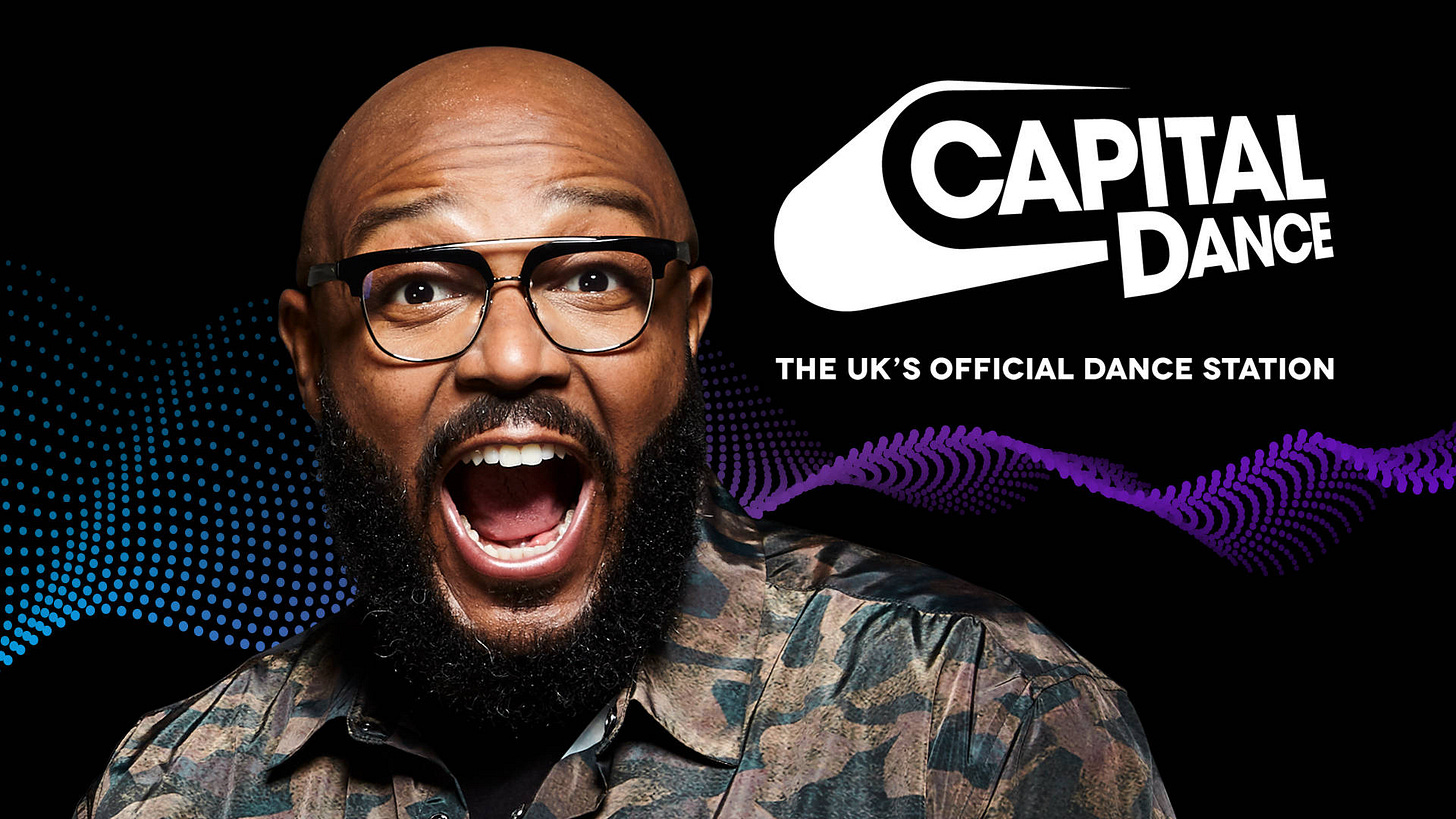 This is from my free weekly newsletter, sign-up and get something like it in your inbox every Tuesday.
Global surprised many last week by launching a new radio station - Capital Dance, fronted by recent Radio 1 departee Mistajam.
Unusually the station launched shortly after its announcement, the benefit of Global being able to juggle its digital capacity to squeeze something new onto the airwaves.
The station uses the slightly odd tagline of 'the UK's first official 24 hour dance music station'. I'm not sure who is high enough up in dance to award that lofty position. I hope it's Alex Party. Or perhaps, topically, Corona. I would be slightly sad if I was Toby Anstis, down the corridor, who's been slogging his guts out on Heart Dance for a year. I look forward to a re-brand which embraces an un-official dance station moniker.
The seemingly speedy launch means they've nipped in the way of the BBC's new streaming channel - Radio 1 Dance - which launches this Friday at 6pm, in which oddly, I think Mistajam is still in the promo for. They clearly weren't sure where he was popping up.
I do hear that Mistajam was unhappy with the opportunities at the Beeb and an ex-colleague, now at Global, managed to alert Leicester Square that it might be worth a chat.
Mistajam's a solid name, who's been doing good business for Radio 1 and 1Xtra, but I was surprised that they didn't add him to the already established Capital Xtra. His Global output will instead include Drive on Capital Dance but also two weekly dance shows on the main Capital FM.
Global has somewhat been playing catchup to Bauer's sprint into launching new stations, but have generally been able to kick them off more consistently, aided by their brand families and their Outdoor billboards.
I think this launch probably brings us to the end of the scattershot Hours grab that many new launches have been focused on. Global, Bauer (and to a lesser extent Wireless) have been launching spin-offs to try and grow their audience share, or at least defend against other new entrants.
Capital Dance will no doubt help grow 'Total Capital Brand' hours, but it's also designed to try and kick Kiss backwards, to help maintain the supremacy of Capital FM.
The hours strategy is sensible, particularly if you're the management of a challenger radio group where the jackpot bonus is related to market share success, but I think it does leave some of the stations lacking as a destination.
I'm not sure what generic VT'd presenters, or just having shows at Drive or Breakfast is telling listeners. Of course there's functional benefits of being a place you can visit to graze, or scratch a music-intensive itch, but without a passionate connection do they become replaceable by another new launch? Are Kiss's Kisstory and Capital Xtra's Reloaded just substitutable products? Does that help either radio group build any real lead?
Additionally, these stations all seem to merely support the mothership, with little digital content, marketing or real-life brand building to help make them truly competitive.
The BBC are also playing catch-up. Internal annoyance at the rise of commercial spin-offs has driven their new launch probably slightly more than a desire for building public value. The stated aim of growing young audiences is a handy clover leaf for a desire to re-enforce BBC Sounds offer. I'm not sure R1 Dance, with Pete Tong seeming to be the key talent driver, is going to ignite the interest of 15 to 24s. More likely 30 to 45s.
Now, as a BBC supporter, I don't think there's anything wrong with launching new station streams and improving their digital audio product. In a world of Apple, Amazon and Spotify, having a strong British audio product in BBC Sounds is a good thing.
There will be an eventual realisation from Government that the future dominance of non-UK platforms and non-UK content is an even worse outcome than being grumpy at the BBC for its reporting and apparent wokeness. Faffing about with the BBC Chairmanship will be a little irrelevant if most UK content consumption is of US commissioned entertainment shows. MPs like being seen on the telly or heard on the radio. And I don't think Priti Patel's going to make it onto the new series of Netflix's Sex Education.
The challenge for BBC Sounds is to align its development in the Venn diagram of Government's desire for public service content, Ofcom's desire for youth appeal, supporting UK content and actual audience interest.
Whilst Radio 1 Dance may fit some of that, personally I would have launched with a Radio 1 Introducing stream and got on with co-opting third-party podcasts to BBC Sounds. Yes it will be hard to get right, and the Daily Mail will no doubt employ another journalist to spew articles about balance, immigrants and opinions of these imported podcasts. However, it needs to do more than merely catch-up with commercial broadcasters, Spotify or take part in the hours battle. Its challenge is to build something that is hard for others, particularly international companies, to compete with and that can reflect Britain and be loved by its audiences.
Enjoyed this? Subscribe for free: