Discover more from Matt on Audio
Podcasts, streaming and radio - what's happening and why.
Over 3,000 subscribers
Apple Makes Its Own News Podcast
Can big tech transition to making audio content?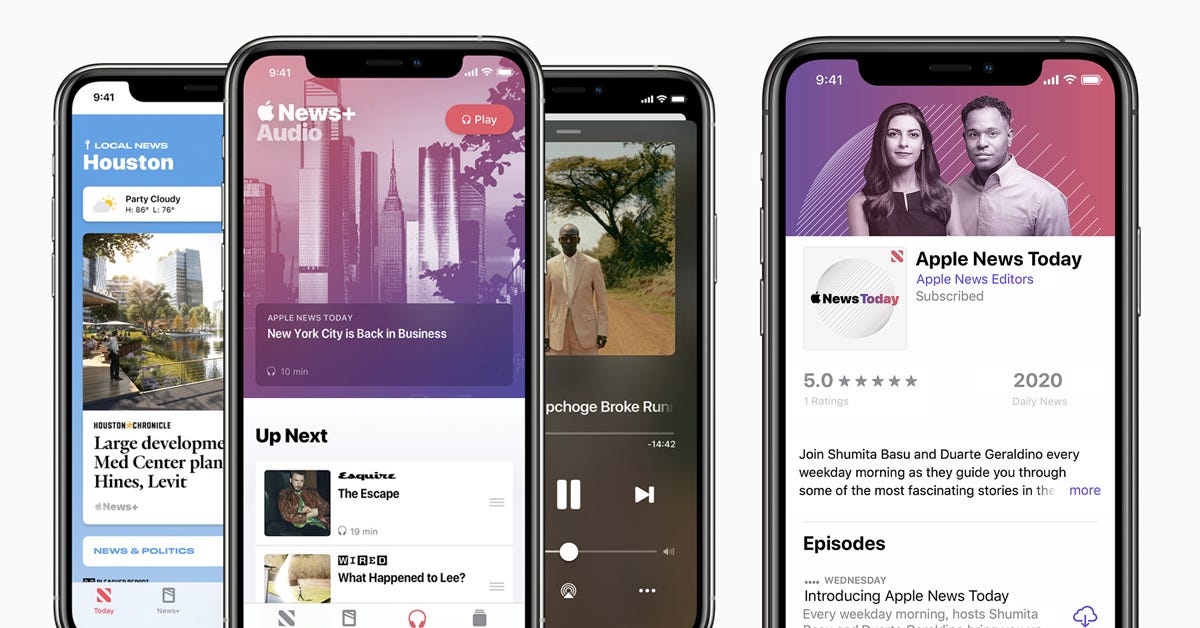 Apple have launched their own daily news podcast - Apple News Today. Their description:
Join Shumita Basu and Duarte Geraldino every weekday morning as they guide you through some of the most fascinating stories in the news — and how the world's best journalists are covering them.
Apple, like many internet mega co's, get all confused when they get into content. The clunky transition from arguing that they're just a platform - helping others to be successful - to content publisher, means they have to contort themselves by suggesting that this too is a platform to push to other journalism. "Hey we're just surfacing other people's great work", whilst at the same time adding a new well-marketed competitor, putting even more pressure on regular journalistic endeavours.
It's all part of Apple News+ Audio Stories - a new encouragement to sign up to the subscription-based Apple News+ where, as well as hearing the free-to-air Apple News Today you can get:
… 20 audio stories a week across a wide range of interests. Narrated by professional voice actors, these are audio versions of some of the best feature reporting and long-form pieces published by Esquire, Essence, Fast Company, GQ, New York magazine, Sports Illustrated, TIME, Vanity Fair, Vogue, Wired, and more, and newspapers including the Los Angeles Times and The Wall Street Journal. Audio stories are now available to Apple News+ subscribers in the US. 
The RSS feed for the podcast attempts to restrict its appearance to the US, UK, Canada, Australia, Germany, Sweden, France, Japan, Noway, Denmark, South Korea, Russia, Spain, Netherlands, Brazil, Ireland, Mexico, South Africa and New Zealand. However, they might as well just restricted it to the US, as the show is almost entirely US focused.
There's little attempt to even pretend. Donald Trump is the president, not even the US president. There's also little or no international news.
The result, outside the US, is that it's sliding down the podcast charts.
As the podcast is a way to plug Apple News+ Audio Stories, again its global availability doesn't make much sense, as you can't get the Audio Stories service outside of the US anyway. Indeed, you can only get the free Apple News in the US, UK, Australia and Canada.
In fact, accessing audio from Apple News is all a bit weird. Yes, you can get the show as a podcast from Apple Podcasts, but there's no audio in the desktop or iPad Apple News app - it seems only available in the iPhone version. So, instead in the desktop app you get a well designed visual description of the show, just no way to listen to it. They haven't even linked to it in its Apple Podcast form.
On the podcast itself, it talks about finding out more information in the show notes. Indeed, they do mention the news suppliers, and even link to them in Apple News. Unfortunately, Apple Podcasts doesn't display links, so these don't appear for users (I can only see that they're there by looking at the RSS feed).
With the show they've hired good people in Shumita Basu (WYNC's Morning Edition and more), Duarte Geraldino (PBS/WNYC/Al Jazeera) and Katie Nelson (ABC News/Huff Post/New York Daily News). If I was listening in the US, I'd think it was well made.
The problem with this, and Apple's other broadcast-style audio project - Beats 1 - is that the positioning, marketing and consumer-fit is wrong. They both solve corporate problems, rather than listener ones. The user experience to get to any of their audio content is confusing - its down strange rabbit holes (and not available in third party places where many people actually listen to radio or podcasts).
A sidebar on Beats 1 - the Apple Tumblr website that's the number one search term for Beats 1, is currently very empty and I had to Apple 2-factor authenticate to listen in a browser.
Anyway, Apple's challenge is that to encourage people to subscribe to Apple News+, they need to build more value. The audiobook-style read-alongs of articles is not a new idea. Audm had been going for a while, before it was acquired by the New York Times in March and the FT had piloted their own version.
Apple needs to be onboarding more people to Apple News+, so they can share more money with publishers, so that they stay as part of the service. The pitch for Apple News+ is a monthly subscription to, mainly, premium mags and news sites. The challenge for publishers who are developing their own paywall strategies is whether Apple News helps or hinders. The New York Times decided last month that it wasn't worth it and left.
You can see, corporately, why a free onboarding ramp (the daily news podcast) alongside the new audio articles perhaps makes sense. I'd wager though that publishers aren't that keen on wanting a new daily audio competitor and that consumers probably don't need a new, nicely read, headlines service. Apple driving traffic to my content on a platform where I get only a slither of direct revenues, through the re-purposing my content and maybe getting in the way of my own audio strategy, seems an odd direction to take.
The bigger issue is that it's hard to see this scale internationally. Do you create a separate show in every market? Can you do the deals to voice the news articles? Can you roll it out in all the territories? Indeed, is audio really a significant selling point for what's mainly a magazine subscription service?
The NYT's splash in the audio market with The Daily has come from a couple of things. Firstly, they re-invented the daily news podcast. Previously they were all a bit rushed, this was made well, each day. But it's core USP was that its content is based on new reporting with in-house expertise.
Apple News Daily might do alright in the US as a loss leader, but I guess it'll annoy its news partners and not drive that much usage of Apple News+. It'll also be interesting to see how it covers an Apple scandal? Can you satisfy your consumers whilst looking after your news partners and keeping head office happy?